Ambrus Kaposi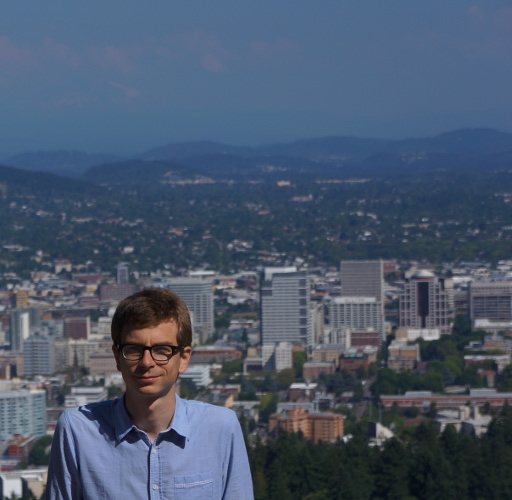 Teaching Advertisements Drafts and publications Talks Activities


I am an assistant professor at the Department of Programming Languages and Compilers, Faculty of Informatics, Eötvös Loránd University, Budapest, Hungary. I have a bachelor's degree in computer science from the same university and a PhD in type theory from the University of Nottingham. Previously I did a PhD on medical statistics after becoming a medical doctor at Semmelweis University.
Email: akaposi@inf.elte.hu
Address: Kaposi Ambrus
ELTE-IK, Programozási Nyelvek és Fordítóprogramok Tanszék
Pázmány Péter sétány 1/C
1117 Budapest
Hungary
Room: 2-705 in the South Building (location of building, map of building). After 17.30 the door in the corridor is locked, you can use the interphone next to the door.
Office hours (fogadóóra): TBA
Teaching
Current teaching at Eötvös Loránd University:
Past teaching:
Advertisements
Budapest type theory seminar: every Tuesday evening 19:15 at ELTE Lágymányos Déli épület 4-429, contact me if you want to come, and I'll add you to the mailing list. Greenboard photos.
If you are interested in functional programming or type theory, the best way to learn and get involved is to go to one of the following excellent (summer) schools. Usually they have scholarships for student attendees.
Student and research projects (TDK, szakdolgozat témák):
Drafts and publications
Any comments are very much welcome.
with András Kovács
FSCD 2018
with András Kovács
Draft, Oct 2017
ELTE Fröccs Akadémia, 2017
with Thorsten Altenkirch
LMCS, 2017
PhD thesis, date of defence: 24 Nov 2016
Advisor: Graham Hutton
with Thorsten Altenkirch
FSCD 2016
with Thorsten Altenkirch
POPL 2016
with Thorsten Altenkirch
TYPES 2015 postproceedings
with Leran Cai and Thorsten Altenkirch
Draft, Mar 2015
with Paolo Capriotti
MSFP 2014
Tízéves az ELTE Eötvös József Collegium Informatikai Műhelye, 2014
An introduction to type theory with a notation using De Bruijn indices and explicit substitutions. Nov 2013.
Talks
TYPES, Braga, 21 June 2018
Université de Nantes, 25 April 2018
Agda Implementors' Meeting, Budapest, 31 January 2018
EUTypes Working Meeting, Nijmegen, 23 January 2018
Pannonhalmi Bencés Gimnázium, 24 November 2017
TYPES, Budapest, 30 May 2017
FPFM, Nantes, 27 April 2017
EUTypes Meeting, Ljubljana, 31 Jan 2017
FSCD, Porto, 24 June 2016
TYPES, Novi Sad, 25 May 2016
Theoretical computer science seminar, University of Birmingham, 26 Feb 2016
POPL, St Petersburg, Florida, 20 Jan 2016
TYPES, Tallinn, 21 May 2015
Eötvös Kollégium, Budapest, 7 Jan 2015
Hackerspace, Budapest, 6 Jan 2015
with Thorsten Altenkirch
HoTT Workshop, Oxford, 8 Nov 2014
University of Bath, 4 Nov 2014
AIM XIX, Paris, 23 May 2014
Tízéves az ELTE Eötvös József Collegium Informatikai Műhelye Konferencia, Budapest, 21 Feb 2014
Activities
---
Last modified: 8 Feb 2018